October 2020 – January 2021.
Mixing is probably one of the most time-consuming activities, and despite Fabio is a master (or a mixer? – pun intended) in this, the task took almost 4 months. It has to be said that this "$%&£"$%& COVID didn't help. But in the end we did it and we cannot be more happy with what we achieved. So, one cloudy morning we reached Fabio Fraschini's studios (Playrec Studio) and we started this next stage of an endless assembly line.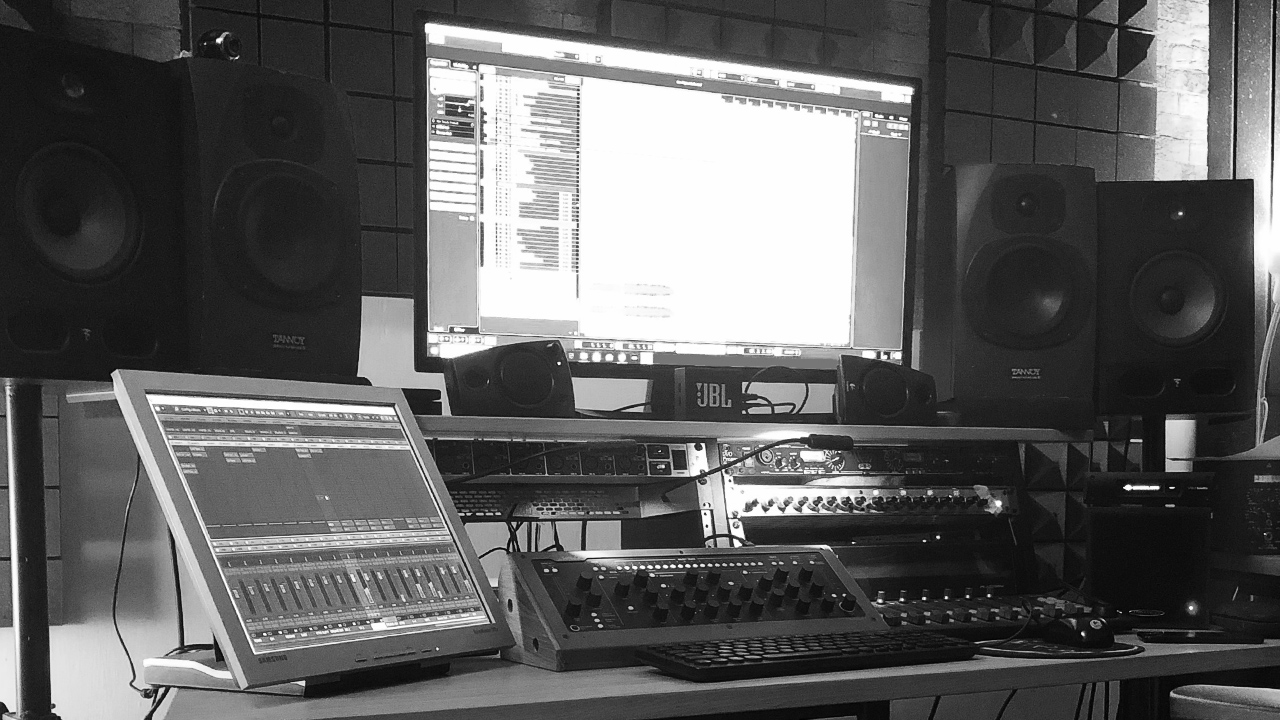 First days of mixing were spent to create "the Sound" – also known as: Fabio turns knobs and load plugins and we watch in disbelief trying to figure out what is going on. Considering all the different styles we had to define standards for 4 styles: Heavish – Orchestralish – Mellowlish – Electrolish. ( Those are not real words but that's how we secretely named them). Applying those standards to the several songs or multiple parts of the same songs, allowed us to have a consistent sound even during the weirdest "musical moodswings".
After some days of Fabio's Magic things started to take an initial shape and the real Mixing of "She is the one" began.
The hardest part of mixing a song is that you are used to how it sounds in your own studio, with your own speakers or headphones, your own car stereo etc. Basically you have to deconstruct everything and rebuild it again. That's a bit shocking af first, cause things you know so well that sound in a certain way (if you are not a professional and you don't know what you are doing probably they sound really wrong!) will sound in a new way, for sure it will be better but getting rid of what you are used to is very hard sometimes.
It may take a bit to understand exactly what's going on and you may think "was all of this really needed"?
Indeed it is.
Cause you have to look at the big picture, and when it comes to Fabio, he is not only able to see it but he can paint that picture in an unbelievably good way. (We got a discount on his fee because of this sentence – Adr Note)
And so the work went on. Certain days were easy, others were dreary but Fabio always reassured us and in the end always found a solution to problems we weren't even able to see at first. We will always be thankful to him and since he also took part of the recordings, featuring his Bass on "No Unicorns", he became part of the family and he is secretly the seventh Icon.
Technical stuff for nerds:
The mixing has been done with Cubase 10.5. The products featured are too many to be remembered but we do thank and love: Universal Audio, SSL, Neve, Softube, RME, Acustica Audio, Tonelux, Dynaudio, Adam, Focal, Tannoy and many more.
And if Fabio was the king of the mix,
The real queen of the mixing process was that tiny mono 20€ JBL speaker.
Best buy ever.