Thank you for reaching us, this is theicon presskit, here you will find all the key informations related to our music project and its many facets.
SMARTLINK
---
BEYOND THE UNIVERSE
Beyond the Universe (Acts I & II) is the story of a couple: Emily, trapped into another reality in search for the way back home and Abe, in his desperate search for Emily.
The story is a metaphorical journey through the problems of our time and a lasting need for mental sanity, expecially in a world where nothing is at is seems.
The story is also illustrated via drawings, which will be sold separately or included in a digital artbook in a future deluxe edition. A novel is planned for the coming years.
(A high percentage of the income from sales will be given to nonprofit organizations for mental health research and cancer research)
AUDIO FILES
Beyond the Universe act I – Youtube Playlist:
https://youtube.com/playlist?list=PL6YuFvhEDBVfmDBwy7qOpzOvnheomsUhy
Beyond the Universe act II – Preview / Press only:
https://drive.google.com/drive/folders/1AvFV1a9EXL-h5MK_m8Woalm3QynPobrU?usp=sharing
---
LINEUP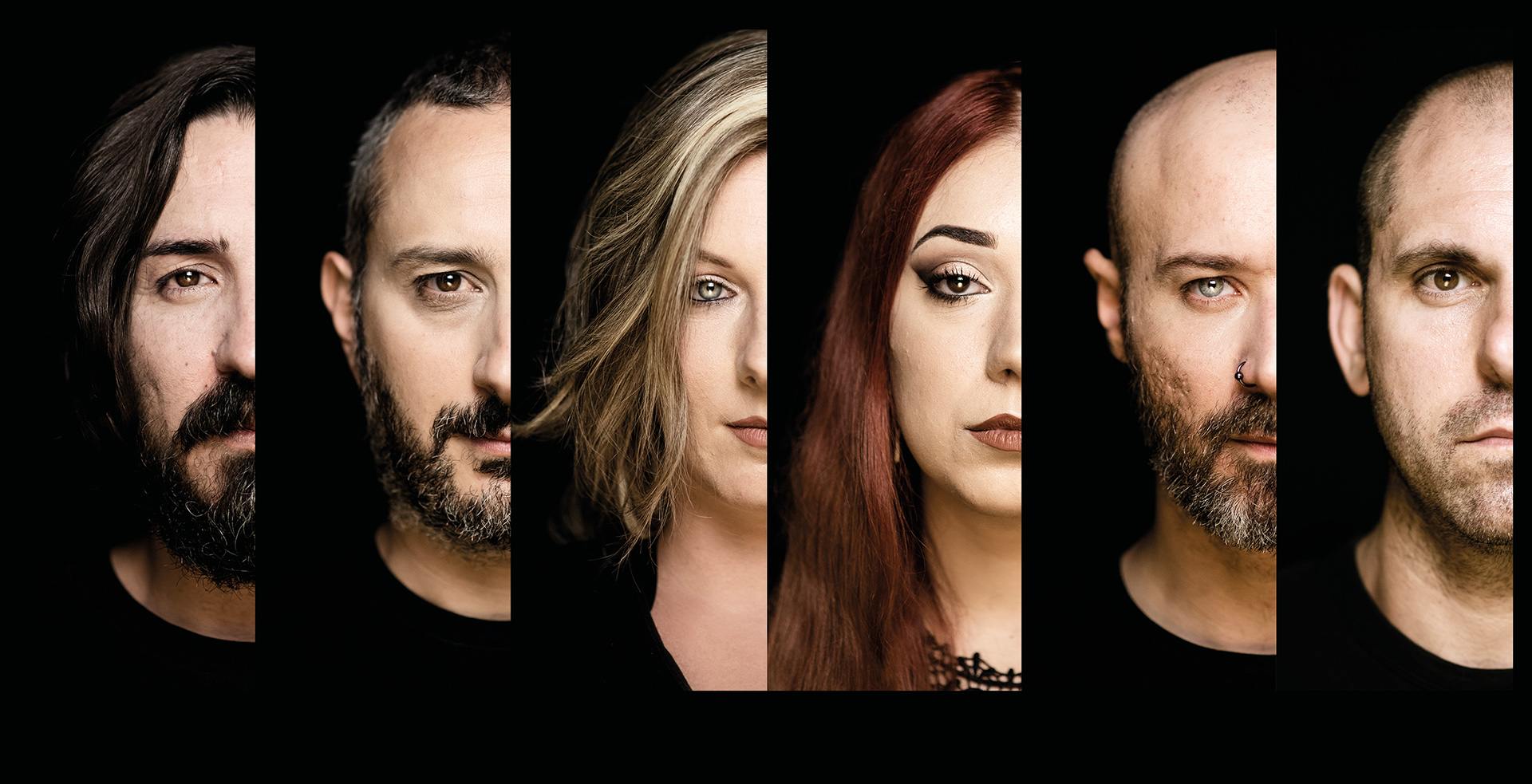 From left to right:
Tiziano Bernardini: Lead Vocals, Additional Keyboards
Massimiliano Liburdi: Acoustic & Electric Guitars
Daria Simonetti: Lead Vocals
Margherita Palladino: Lead Vocals
Adriano Taccoli: Keyboards, Pianos, Bass & Sfx
Luca Fareri: Acoustic & Electric Drums and Percussions
---
BIOGRAPHY
theicon is a progressive rock/metal band based in Rome and originally created by Adriano Taccoli, Stefano Brunetti and Tiziano Bernardini around 1992.
During the period from 1992 to 2002 the band composed a series of works called Nemesis, although they remained as a sort of demo/tank of ideas for works to come.
The first demo as a full band, called "Museum of a Bliss", was released in 2008, followed in 2010 by a full concept album called "And then there was the rain".
The band passed through many lineup changes, reaching a stable one in 2015 with Daria Simonetti and Margherita Palladino on vocals and Luca Fareri on drums.
In 2019 the band was ready to produce their first official album called "Beyond The Universe", a concept divided in 2 acts.
---
LISTEN TO THE SINGLES
Another World – not released yet
Nonexistent – not released yet
RESET DAY VIDEO
Reset Day is the first single released December 30, 2021
Directed by: Massimiliano Liburdi and Adriano Taccoli
Art Direction & Screenplay: Daria Simonetti, Adriano Taccoli, Massimiliano Liburdi
Make-up artist: Valentina Pozzi
Production: theicon
---
RELEASES
December 30, 2021: First Single + Video – Reset Day
January 14, 2022: Second Single + Video – No Unicorns
January 27, 2022: Beyond the Universe – Act 1 – Album Release
November 4, 2022: Third Single – Two Worlds
November 11, 2022: Beyond the Universe – Act 2 – Album Release
November 25, 2022: Nonexistent Videoclip
December TBD, 2022: Another World single + B side.
Future Plans:
Inquisition – Concept Album – Recording in progress (TBD 2024)
Vengeance – Theater screenplay + Concept Album – (TBD 2025)
---
LOGO, PICTURES, ASSETS:
BRANDING MATERIAL REPOSITORY – HERE
BEYOND THE UNIVERSE – ACT 1 – DOWNLOAD BOOKLET
BEYOND THE UNIVERSE – ACT 2 – DOWNLOAD BOOKLET
TECHNICAL SPECIFICATIONS – Not available
---
Feel Free to reach us at info@theicon.org for generic inquiries,
adriano@theicon.org and massimiliano@theicon.org for management inquiries.
THANK YOU!